Who doesn't love a holiday? A time to relax, unwind and enjoy yourself. Dreaming about your perfect vacation is easy, but when it comes to planning all the details, accommodation, tours, dining, transport and entertainment, it can be overwhelming.
Booking a package or all-inclusive holiday is often the best option for people who want a fantastic holiday with less stress and time spent on planning. There are so many options, including family holiday packages or all-inclusive hotel and resort stays that are so easy to book online and pay for it in instalments through us.
What is an all-inclusive holiday? 
While it can vary from place-to-place, all-inclusive holidays usually include everything you need, plus more. Tours, food, drinks, entertainment, transport, accommodation and sometimes even spa vouchers are mostly included within one single cost.
What does it mean when a hotel is all-inclusive?
Generally, if you stay at an all-inclusive hotel - all your food and drinks are included and are unlimited. This means there is no need to stress about a hefty bar bill at the end of your stay. Bonus!
What does all-inclusive mean for resorts?
Similar to a hotel, food and drinks are usually included and unlimited when they're all-inclusive. But resorts often have bonuses like on-site spas and kids' clubs that may also come as part of your package. Not to mention all the activities and entertainment they often include as well. Water skiing anyone?!
What does all-inclusive mean on a cruise ship?
Cruise ships usually have various packages you can choose from during your booking process. The basic packages include food and soft drinks. Premium packages also add in alcohol, local tours and activities, such as jet ski rides.
Who is an all-inclusive holiday for?
All-inclusive holidays are an excellent option for anyone who wants a hands off relaxing experience. It's perfect for families, friend groups and couples alike.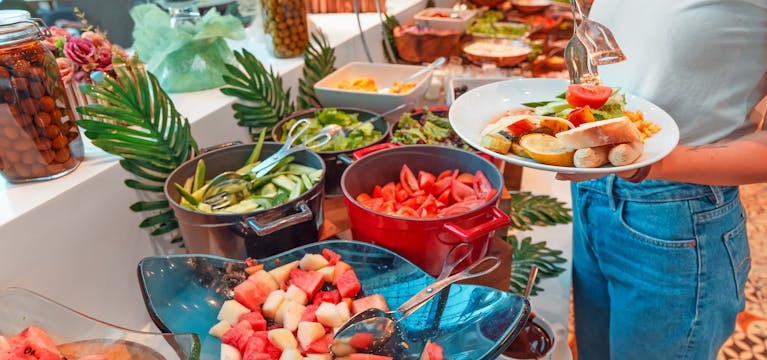 What are the benefits of all-inclusive holidays?
It can quickly add up if you're ordering daily sunset cocktails or ice creams for the whole family. When you know the cocktails are included, and the kids can help themselves to as much food as they like, it brings peace of mind. 
Great for the time-poor booker 
If you don't have the time or inclination to micromanage your next trip, being able to book your entire holiday in a few clicks saves you a lot of time (and sanity). With all-inclusive packages, you won't need to plan activities to suit the multiple interests of your family or fellow travellers. Instead, they can just choose for themselves from the dizzying array of options once you're there.  
Safety comes with certainty
Visiting a country that has a history of street crime? It may be safer to stay within your all-inclusive resort and enjoy all it has to offer. Plus, you can be sure they won't take you anywhere too hairy for any out-of-resort activities too. If feeling very safe while travelling is a priority for you, check out our look at the safest places to travel in the world. 
It's a great way to make friends
All-inclusive holidays are great for socialising. You'll be on a vacation with like-minded people who are into the same things you are (like all-inclusive holidays!), so you can all take part in the activities, entertainment and meals together. 
What are some of the disadvantages of all-inclusive holidays?
Eating all your meals in the hotel can be either a pro, or a con - depending on how you see it. Meals at just one restaurant can become repetitive after a few days, but lots of all-inclusive resorts and cruises offer multiple venues for eating these days. And, if you have small children, the predictable nature of the same food each day can be a real win. 
All-inclusive doesn't always mean all-inclusive. While a lot of things will be covered by your package, some extras like quality wine, may be extra. Make sure to read the fine print and check ahead to see how much those non-inclusions cost.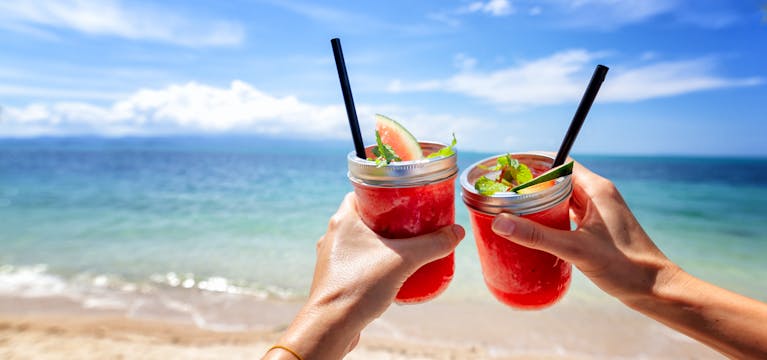 What is a package holiday?
A package holiday is where transport, accommodation and other extras are packaged and sold together by a travel agency.
Often there are special rates and discounts applied to make it more appealing and sometimes extra services may be added like a rental car, activities or massage vouchers. But unlike all-inclusive packages, you will need spending money in addition to these basic costs. Working out how much to save for your holiday doesn't need to be complicated, just read our guide. 
Play Travel

Who is a package holiday for?
Hassle-free package holidays suit everyone from backpackers booking Contiki tours to Baby Boomers wanting to spend less time planning. If you have children, family holiday packages can offer great discounts - like kids staying and flying for free.
What are the benefits of package holidays?
Transfers are often included
This helps take the pressure off booking transport somewhere you're probably not familiar with. It's likely someone will be at the airport waiting to whisk you off to your resort. And who doesn't love those little name signs?!
Package holidays can offer a hefty discount compared to booking flights and accommodation separately. Those benefits can include anything from upgraded hotel rooms to free kids' clubs. 
Food and drinks are not usually included which gives you more freedom to explore the restaurants and bars nearby. If indulging in local cuisine is your idea of fun, it's a fab option. 
The resorts and hotels included in package holidays often have excellent reputations for service. If you choose to book independently, you'll need to spend a lot of time reading reviews - which can sometimes be misleading.
If you're booking a package vacation, it's likely someone will be there to answer questions before you book, during the process and afterwards. They'll also remind you if you need visas, vaccinations and travel insurance. 
What are some of the disadvantages of package holidays?
Budget blowouts do happen. Food and alcohol can be costly in some countries, and when you're paying for the whole family to eat every meal, it can quickly add up. Not to mention trying to split the bill with fellow travellers!
Deals are not always cheaper 
Seen a great sale for a package holiday? It's worth investigating prices before snapping it up. Sometimes the convenience can cost you more - although that may be a price you're very willing to pay. If you're considering booking independently, check out our guide on how to plan the perfect holiday.
Here at Play Travel, we aim to give you the most updated and correct information available. In saying that, we advise everyone considering travel to follow the advice of the Australian Government and the World Health Organisation and stay informed by reading our guide on safe travel during the coronavirus pandemic.