Ski holidays are awesome, one of the best bucket list experiences in the world. They're the ultimate combination of adventure, eating, spectacular scenery and apres. However, it's this combination which also makes packing for a ski holiday daunting, especially if it's your first time on the slopes.
Packing for a ski holiday is a bit like baking a cake, if you get the ingredients right, you're almost guaranteed a great time on and off the slopes plus you'll save money by avoiding ski shops on the mountain.
If only this list was available for my first ski holiday, I might have been a much better skier.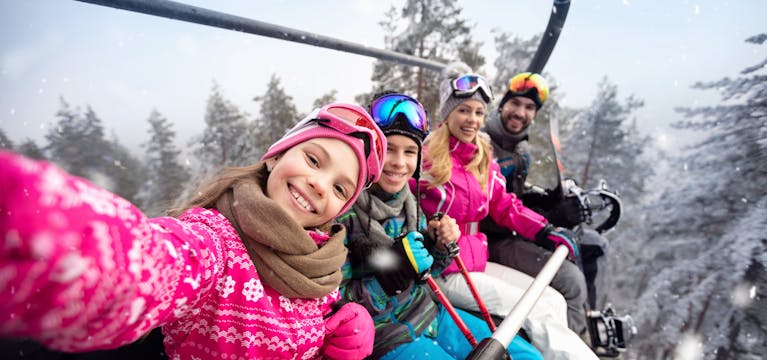 Ski jacket and pants
These are possibly the most essential items for a comfortable ski holiday. A good set of thermals won't just keep you warm, they will  also keep you dry if you're likely to sweat while skiing. The quality of your thermals (like anything) will depend on what you're willing to spend. 
Avoid synthetic materials and always choose wool over cotton. Cotton thermals will hold moisture and this can make you feel cold. It's a good idea to pack two sets so you can rotate.
Choosing an outfit shouldn't just be based on how it looks, as hard as that sounds. The jumpsuit looks like fun but do you really want to spend 15 minutes getting undressed every time you stop at the bathroom?
Consider warmth and comfort first. You don't want a super tight outfit if you're planning on ripping up the slopes, and remember you will be wearing layers so give yourself room to breathe.
Is there an elasticised skirt around the base of the jacket to prevent snow from coming in? (Super important if you're likely to have a few stacks!) 
Is there an arm pocket for your ski pass? This way you can just move your arm to swipe your card rather than fumble through 100 pockets every time you get on a lift.  
Are there zippers (vents) to let in some cold air when you're starting to overheat from all the exercise?  
If you've got a preference for white and this is your first time skiing, you might want to rethink your colour choice. It will inevitably get dirty very quickly. Especially in Australia where the snow cover isn't always deep. 
If you don't want to spend the money and want to try skiing before you buy the ski bunny outfit, most resorts offer a rental service. 
Socks
A bit like thermals, good socks can make or break your experience. It seems weird but thin is always best, they won't rub on your boots and cause you a world of pain. Plus if they're thin they're probably made from a good quality merino wool, meaning they won't sweat and your feet will stay as warm as possible. Pack at least two pairs. Resorts are a good place to pick up good quality ski socks.
Helmet
This is such a personal choice. But wearing a helmet on the slopes is fast becoming the norm. Many people prefer to rent helmets as they're not cheap to buy. But if skiing is a hobby you're likely to keep up, investing in a good helmet is worth it. We think knowing the history of a helmet is important, how many hits has it taken? Plus there's a hygiene element here too.
Boots
Again, another super personal choice. Every resort has boot rental, and for kids, it's not worth purchasing boots they'll outgrow quickly. However, if you're an adult and comfort is key for you, make sure you research the rental boots available and weigh up the cost per wear if you want to invest in a new pair.  There's nothing worse than a bad set of boots. They can ruin your experience. 
Goggles and gloves
Goggles aren't an overly expensive essential ski item. And for hygiene reasons, most places don't hire them.  Find a comfortable pair to give you good protection in a snow-storm and good coverage on a sunny blue sky day. And make sure to try them on with your helmet, as you want those two items to fit together nicely.  Shops at the resort often have the best range of quality and price. 
Gloves are essential, even if the sun is shining. Make sure they're waterproof and if you're buying them for kids that they're easy to slip on and off and have a hook you can attach to a ski jacket.
You only need one pair of each, unless you're channelling Kim Kardashian on the slopes.
Mittens v gloves? Die-hard skiers will tell you mittens are much warmer than gloves. Your fingers rub together in mittens creating friction and heat plus they can easily fit hand warmers.
Accessories
On the ski field 'accessories'  refers to neck warmers, beanies, and face balaclavas. While they're not essential, they're good to have on hand in case you wake up to a snow storm. On a bitterly cold day, you'll need all of them on the chairlift and maybe even while you're skiing. Look for thinner materials which don't hold moisture and can easily fit in your pockets. Maybe you can borrow these items from a keen skiing buddy? It's also a good idea to check with your resort if face coverings are mandatory before you head up, Covid restrictions may apply.  
Ski gear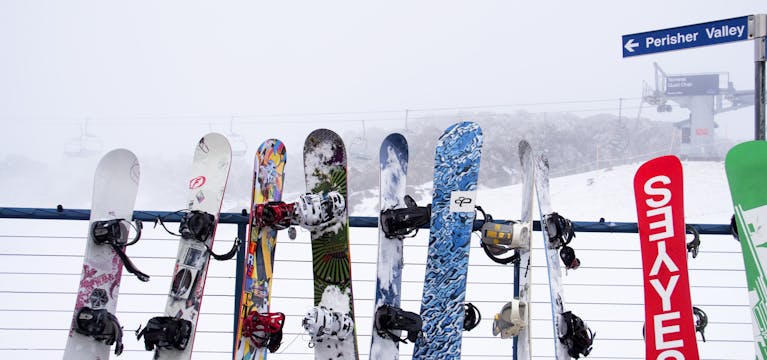 Skis, poles or snowboards, however you choose to get down the mountain you're going to need equipment. Unless you're skiing for weeks during every season, it's more economical to rent your gear.
Start by researching hire shops in and around the resort to see who has the most extensive range and expert fitters. Most shops will let you pre-purchase hire gear, so if you're turning up late at night or first thing in the morning they'll have stock ready for you, based on your weight and ability, that just needs fitting and adjusting.  If you leave it until after you've arrived, it can take up to a day to get through the queues. 
Some shops offer a service where you can select and have your gear fitted before you get to your destination. Your requirements are sent to a resort shop, and the gear is delivered to your accommodation prior to your arrival. This makes life so much easier!
Apres fashion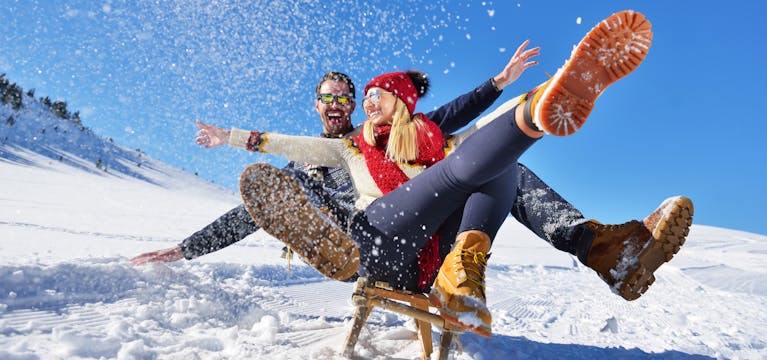 This is your chance to shine like Mariah Carey after a long day on the slopes. Apres fashion on the mountain deserves more than just a couple of paragraphs, it's one of the reasons why ski holidays are so much fun. . 
In between your ski jacket and thermals you'll need a layer, like a fleece or warm jumper and this is where you can go to town on design. Obviously make sure it's practical (a neck zipper is a good idea) and will be warm once you remove your jacket. These jumpers or fleeces can also be used when you're not skiing, so it's a good idea to pack more than one.
Next are apres boots, if you're planning on walking around during the day or night, a good set of apres boots won't just keep you warm but may prevent you slipping on the dreaded black ice. Look for a decent rubber soul as well as a warm and comfy lining.
Investing in a good coat is key. Remember you can use it on more than one occasion. While a wool coat is ok, puffer jackets are even better, they're compact, super warm and don't weigh as much as wool.
Electronics
Headphones, phones, chargers, cameras, speakers, the list goes on. Work out what you really need and what you will actually use. There's no point in packing the gro-pro if it's going to stay inside the suitcase. The most important item will be chargers, if you're on the mountain all day a charging mobile case is a good idea so you can stay connected.
Toiletries
Suncream for the snow is so important. The reflection of the sun on the snow can cause severe sunburn. You don't want to be rocking your apres outfit with a bright red beak. A good lip cream or chapstick is important to stop dry and cracked lips. Choose something compact to fit inside your jacket so you can reapply throughout the day.
Bags and suitcases 
If you've got lots of things to pack for your ski holiday, calculate how many suitcases you'll need and how many your airline allows. You may need to cull or pay for an extra bag. There are purpose ski bags designed to carry helmets, boots, snowboards and skis and will make life easier at the airport and when you're transferring. 
Tips on packing your suitcase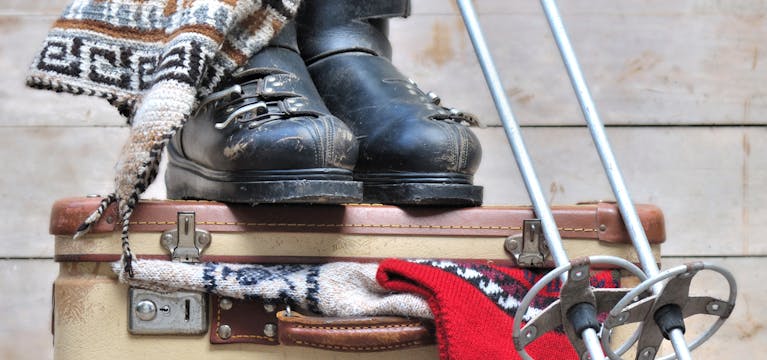 Buy a suitcase scale you can use at home. They're available at most luggage shops and are a great way to avoid nasty baggage fees at the airport. 
Buy storage pods so you can divvy up the ski gear if you're travelling with friends or family.
Invest in vacuum bags, pack the ski gear and suck out the air, you'll fit so much more in one suitcase. Just remember though you'll need to have access to a vacuum cleaner at your hotel or resort. Check with the concierge before you leave to make sure they can assist. 

Now you've got your packing list, it's time to plan your ski holiday or if you prefer getting down a mountain on a snowboard, find the best resorts for snowboarders, in Australia and overseas. 
Whether it's Queenstown, or Australia you can pay with Planpay or Afterpay. Choose a ski resort or hotel and add your activities and passes where available. Then pay with interest-free weekly instalments.