Top ten family friendly theme park holidays
Planning a family vacation can be overwhelming at the best of times, making sure every member of the family will be entertained is complicated. Which is why theme park holidays are so popular for families of all ages and stages. 
Your holiday is about making precious family memories, and the more planning and research you do the better it will be, especially when it comes to family theme park holidays. 
Choosing the best theme park or water park, based on where you want to travel and what's most suitable for your family is the best way to start planning.
Once you have your destination in mind, the ride begins!
What theme parks will suit your family?
The easiest way to work this out is based on the age, confidence and stamina of your kids. There's no point booking a popular family water park if your children aren't competent swimmers or there's not an expansive and safe area for your toddlers. 
If your kids are adventurous and full of energy, you'll need a theme park with a wide range of rides, side-show alleys and food halls to keep them (and you) well fed and entertained. 
And, before you set off, make sure to read our Family Holiday Hacks guide.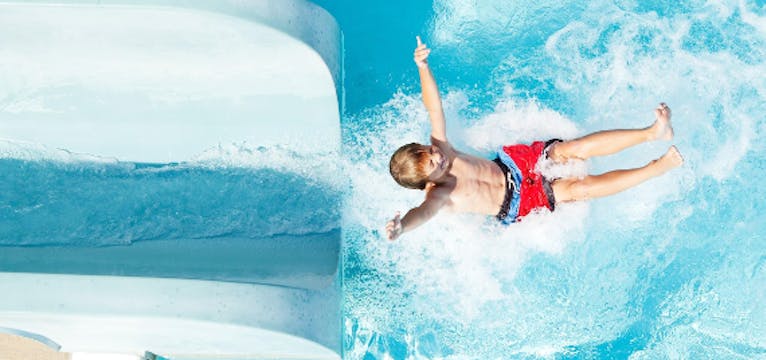 To help get you started, here's a short list of the best holiday destinations with theme parks.
Australian theme parks
If you're wanting a holiday close to home these theme parks are conveniently located and family friendly.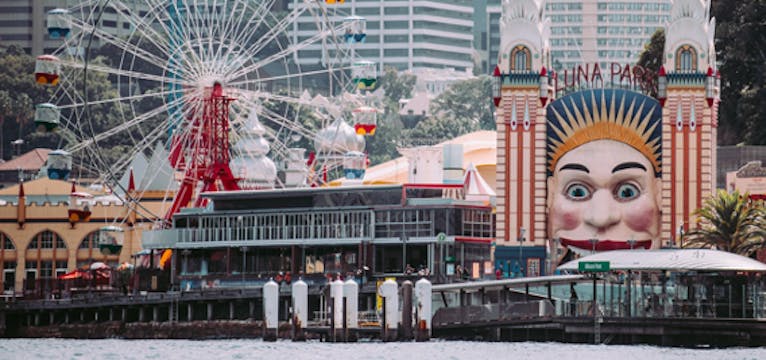 Luna Park, Sydney
One of the most popular theme parks in Australia, a holiday in Sydney isn't complete without a visit to this colourful park! From the famous Wild Mouse roller coaster to the Mirror Maze inside Coney Island, there's options for all ages. 
Because the rides are safely marked with age guidelines and also because of its inner city location, this theme park is super convenient for a family getaway in the Sydney CBD.
Raging Waters, Sydney
Once known as Wet 'n' Wild, Raging Waters offers over 30 rides, slides and attractions. But Sydney's largest waterpark isn't just for big kids. It also houses Raging Waters Jnr, Australia's largest kid friendly water area with water rides and a zone ideal for toddlers and primary aged children. 
And, for the thrill seekers, there's a six story slide flowing at 60km/h.
Sea World, Gold Coast
Located about 20 minutes from popular hotels and resorts on the Gold Coast, this family friendly Marine Park is ideal for kids of all ages. Animal lovers can venture behind the scenes and dive with dolphins, feed penguins, and enjoy live shows. There's also a great range of rides from mild to max thrill levels.
Warner Brothers Movie World, Gold Coast
While your teenagers beeline for the DC Rivals Rollercoaster (the biggest in the Southern Hemisphere) you can join your smaller children on the dedicated family rides. From the Road Runner Rollercoaster to the junior driving school the queues are efficient, the rides safe and there are some great value food options, if you can actually find time to eat!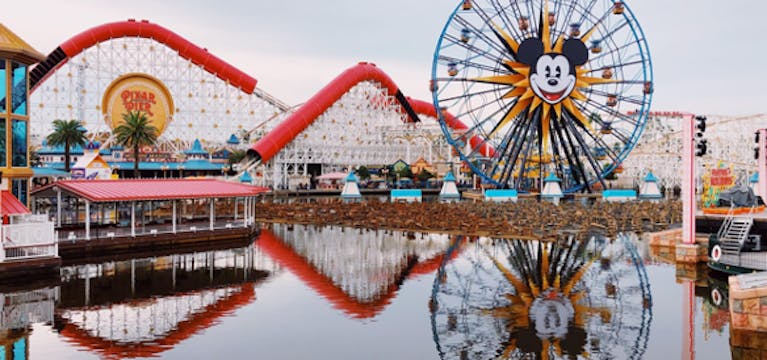 Theme Parks in America
You can only cross America off your bucket-list once you've visited the greatest theme parks in the world. Don't be surprised if you have more fun than your kids!
Walt Disney World Resort, Florida
This isn't just any park, it's four of the best rolled in together at The Most Magical Place on Earth. It's often rated as one of the best theme park holidays in the world.
Magic Kingdom Park
Your kids will love this heavenly place and in turn love you! See some of Disney's most iconic attractions and meet all of your fave Disney characters.
Disney's Hollywood Studios
The whole family can experience the buzz of Tinseltown in this stunning salute to your favourite movies. Star Wars: Galaxy's Edge is the star attraction and well worth the wait!
Epcot
Love a festival? From food and wine, to flowers and gardens - this is a great place to visit during annual holidays (Christmas is ideal).
Disney's Animal Kingdom Theme Park
Be prepared to be transported to some of the most remote places on the planet without ever leaving Orlando.
Disneyland Resort, Anaheim
Located around 2.5 hours from Los Angeles Airport, the Disneyland Resort is where some of your best family memories will be made.Put aside at least two days to enjoy both Disneyland Resort and Disney California Adventure.
Disneyland Park
Renowned for street parades and classic attractions like Small World and Haunted Mansion this theme park is great for younger families. Enjoy your kids' excitement as they meet their favourite fairytale characters, and make the most of family friends apps which let you pre-order food.
Disney California Adventure Park
From Cars Land to Pixar Pier it's hard to leave this incredible theme park until your kids (and you) have experienced every ride and show. You'll need stamina to get through this, so make sure you allow a couple of days.
Universal Studios, Los Angeles
Just a 15 minute drive from downtown Hollywood, this family theme park offers the ultimate Hollywood experience. Expect a full day of action packed entertainment from thrilling themed rides, visits to famous movie studios and of course The Wizarding World of Harry Potter. Download the dedicated Trip Tip App to plan your visit.
Theme Parks in Aisa
If you think your family is too young to travel to the USA, and you've already visited Australia's theme parks, then Asia is a great close-by alternative.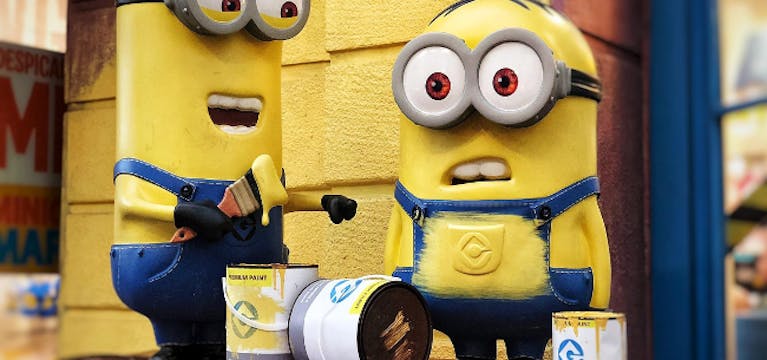 Universal Studios, Sentosa Island, Singapore
Featuring 24 rides, shows and attractions in seven different themed zones, this is Southeast Asia's only Universal Studios. Your older kids can get their thrills on the world's tallest duelling roller coaster and your younger ones will love meeting their favourite Minions! In a country where safety and cleanliness is a priority. Singapore is a great option if you're still feeling a little wary about travelling. It was even listed in the top ten safest places to travel in the world.
Waterbom Bali, Indonesia
If you're planning a family vacation in Bali, then this world class water park is a great way for the kids to burn off some energy and stay cool at the same time. They can chill (wishful thinking) and cruise the lazy river or fly down one of the extreme water slides. Located in Kuta, it's a great escape from the hustle and bustle.
If you're not sure how to plan a family holiday, simply book with us, you can choose your destination and hotel, then add your favourite theme park or water park passes to your package. Once it's bundled together you can pay for your holiday in instalments with Planpay, helping you manage your family's travel budget. 
*COVID-19 has unfortunately made keeping your family safe while travelling even more of a challenge - so make sure to read our guide to safe travel during the coronavirus pandemic.