How to have a good holiday with teenagers
" The family that holidays together stays together ... "
Teenagers, in general, don't have a great reputation when it comes to travel. Unfortunately, the eye rolls, the grunts, and the phone obsession don't just disappear when you board the plane. 
However, don't lose hope, there are certain tips and tricks you can follow to make sure your holiday with teenagers isn't just bearable but enjoyable. 
Follow this guide on how to have the best family holiday with young adults and your next vacay could turn out to be the best yet!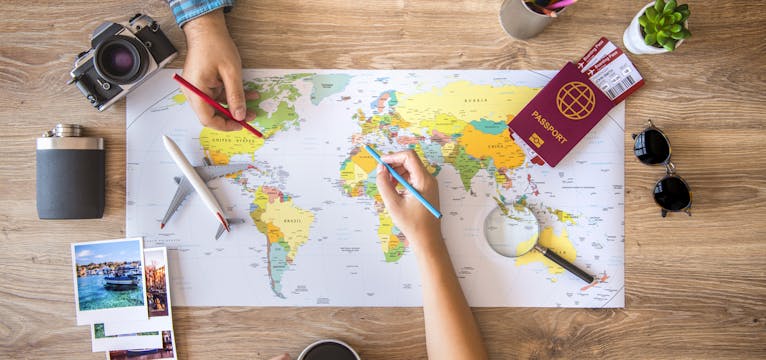 1. Planning the holiday
Unlike travelling with toddlers (which is actually far more complicated), travelling with your intelligent and adventurous young adults can be super fun. 
The key is to get them involved from the start. Learn what your teens like to do on holiday, do they want to relax or chase adventure? Planning a holiday can be just as fun as the holiday itself. Ask them for suggestions, and invite them to help research destinations for great  holidays with teenagers.
What activities do they love? Skiing, diving, snorkelling, hiking, sun-baking. Just like you, they'll have many ideas of what type of holiday they're chasing. And yes, you are funding the holiday, but if you want them to continue to travel with you, you'll need to accommodate their needs.  
We suggest starting a family group chat for the holiday, and asking them to manage it.
2. Choosing a destination
Once you've established what every family member needs or wants from this holiday, you can start to research the best places to go with teenagers. If relaxation is the number one priority, perhaps an Australian holiday is a good idea? 
Australia has some incredible beach locations, like Cairns and Hamilton Island, where your teens can laze by the pool all day and perfect their Instagram poses while you sneak away for an adults-only lunch. 
If thrill-seeking is where you've landed, choose a destination which offers a range of activities like bungee jumping, white water rafting or skiing but which also caters to your needs if you don't want to jump off a bridge and fly through the air at 60km an hour. 
Queenstown, New Zealand is a great option, plenty of adventure activities for your teenagers and plenty of wine options for you! The South Island is famous for its incredible wineries and stunning hikes. 
3. Map out an itinerary
Now you've settled on where to go, you can map out an itinerary. While your teenagers won't enjoy being micromanaged every second of the day, (who does?) an itinerary will help to minimise family arguments over plans for the day.  
A clear itinerary  is also a great way to manage logistics. If one teenager wants to heli-ski while the other wants to fish, you are going to need to be organised ahead of time. It will also help when planning family meals, maybe your teenagers might not want to eat out every night, and that's ok. If you plan your nights out ahead, you can book the expensive restaurants on the nights they want to stay in!
4. Give them freedom
This is so important. If you've chosen a safe destination, close to activities and amenities, then you need to give your teens some responsibility and freedom. 
Remember you've raised them to be smart young adults. If you're travelling overseas, pre-purchase mobile plans, so they're contactable and give them guidance on how to stay safe when travelling. 
If you're travelling with other families, let the kids hang out together while you enjoy local restaurants with the adults.
5. Managing spending money
When travelling  with teenagers, start a savings plan for them at least six months before the holiday. This is a great way for them to take responsibility for how much they've got to spend on a holiday, play your cards right and you may even be able to get extra jobs done around the house!  
If you agree on what costs you'll cover on the holiday, and what their spending money will be used for, this will help alleviate the nagging. 
Yes, they still nag at the shops, even at 14.
6. Travel with family friends
Holidays with like-minded families, with teenagers around the same age, can save your sanity. It's the best of both worlds. You can have family time when you need it, and you can also divide when you need to. 
If you're super organised, map out a joint itinerary with the other families, this helps to cater for all the different activities and needs.
7. Hotels, resorts and tours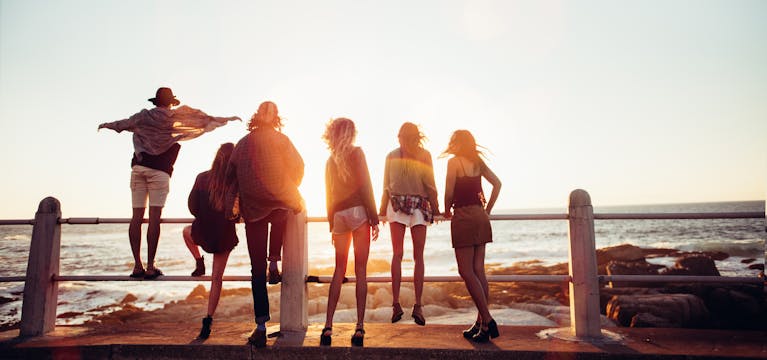 Make sure you check the accommodation to ensure it's teenage friendly. Is there a separate pool for adults? Are there enough hotel activities to keep them occupied? Some resorts are better than others when it comes to catering for teenagers. 
Look for resorts with games rooms, movie nights, surfing lessons, diving lessons and a kids club with teenagers in mind. Fiji resorts are renowned for looking after teens.
8. Sleeping arrangements
By the age of 13 most hotels and resorts will treat your teens as adults when it comes to room configurations and charges. Maximum capacity for rooms is three adults, so you may need to add an extra room (which can be costly) or book a suite. You can always look into the option of a serviced-apartments at your chosen destination if it makes more sense for your family. 
Self-contained beach apartments are great if you're on a strict budget, they give you the option to self cater for your growing, hangry teenagers avoiding the chance of hefty room service bills!
Serviced apartments will give you plenty of space, however they won't help you avoid the piles of dirty washing.
9. Phones and Wifi
Check phone coverage and Wifi at your holiday destination before booking. Both of these things are very important to teenagers and a holiday is not the time to cut them off from friends or restrict their screen time. 
If a destination or hotel has limited Wifi, then let your teens know this before you arrive to avoid frustration. If they're prepared for it, they'll have a chance to enjoy time away from their screens - and (hopefully)won't blame you for it.
10. Let them be teenagers
Your teens will love being on holiday with you if you just let them be! Wherever you are in the world, they still need to sleep, they still need to connect with their friends, they'll still want to post on social media (probably more) and they'll still want to wear tracksuit pants to dinner. 
Let them be teenagers and let them introduce some fun into your holiday and this might just be a family vacay you'll reminisce about for years to come.