Planning a family holiday is no joke, especially if it's a big one! There are so many things to consider – from packing to transfers, accommodation to weather. It's a lot. That's why we've put together a handy guide full of game-changing hacks, so you can enjoy a great holiday with your family, pets included!

*While travel restrictions are constantly changing, it's hard to know what the next few months will look like. We recommend that all Play customers follow the guidelines from the Australian Government, and also read our guide 'How to Travel Safely During Coronavirus'.
Need a particular hack quicksmart? Jump to it! 
Planning hacks
Packing hacks
Technology hacks
Small child management hacks
Happiness hacks
Pet hacks 
Family holiday hacks - Planning
In most cases, you'll spend much more time planning your family holiday than you will actually being on it! So, although a seamless holiday depends on thorough planning, you really want to make this step as fun, efficient and stress-free as possible. 
Our handy guide on how to plan a family holiday is a great place to start. So go on – have a read. We'll wait here for you… 
OK, now that you're back, let's jump right into all the ways you can hack your trip, no matter what type of family holiday you're planning. 
Hack #1 - Involve the kids in the planning
Now obviously, we aren't suggesting  the kids need to be part of every holiday-related decision. That's just way too many cooks in the kitchen. But depending on your children's ages, they might be able to help with some things. 
For a start, when you're first planning your family holiday, create a family travel bucket list. Get all the kids to contribute to this. You may be surprised at how simple their ideas are to achieve. Of course, you might get requests for Disneyland package tours too, but you'll never know if you don't ask. 
Involving kids in booking the trip is also a great chance to teach them life skills. Depending on their ages, you may want to encourage them to:
research car rentals (teens can easily do this) 
write packing lists
help you decide between a few different accommodation options
do chores for spending money 
compare travel insurance options with you (you can use the opportunity to teach them about how insurance works)
open an email account for the trip (more about that later).
Hack #2 - Consider all-inclusive tours
If you want an easy way to plan, book and budget for your trip, we recommend all-inclusive packages. Talk about simple! All you have to do is pay and then turn up. 
And if you book through us and pay for your holiday in instalments, it's even simpler. 

Hack #3 - Call your bank
Put in a quick call to your bank and let them know there may be some large or out-of-character charges on your account. The last thing you need is for them to freeze your card after you buy $70 worth of fast food at 2am. (These things can happen when you're jet-lagged!) 
Even if you're travelling within Australia, banks can sometimes get trigger-happy and lock cards in response to uncharacteristic spending. And we're all very grateful for this if someone's actually stolen our account details.
Getting caught out is easy to avoid though – just let the bank know your movements ahead of time. 
Family Holiday Hacks - Packing
Packing for a family holiday is almost as overwhelming as planning it. There are just so many things (and people) to consider. Here are some of our top tried-and-tested hacks specifically about the art of packing. 
Hack #4 - Pack everything for the first 24 hours in your carry-on baggage
Everyone knows luggage can go missing when you fly. That means it's always a good idea to keep anything you'll need during your first 24 hours in your carry-ons. In particular, think about:
medication
toiletries 
a change of clothes. 
Plus, if you're travelling with kids, you may want to think a little further. On summer holidays, get them to pack their swimmers, goggles and floaties in their carry-ons. That way, you can at least all laze by the pool while you wait for your luggage.

And carry-ons aren't just good for flying. Even on a family road trip, being able to quickly grab a change of clothes or beach gear is a great idea. That way, one parent can jet off to the pool (or quickly access everything they need to get bub down for a nap) while the other unpacks and finds their feet. 
Hack #5 - Pack items that serve double duty
The best family holidays with toddlers are the ones where they get their own way. But what do you do when they want to pack everything in their rooms? Look for items that serve double duty. 
For example, if they want to bring a giant stuffed toy, use that instead of a pillow. If they insist on packing every t-shirt in their drawer (why do they always do that?!), leave out the pyjama tops. Sarongs work as baby wraps or slings, and rubber shoes can be as comfortable as sneakers while also doubling as perfect water shoes. 
Ride-on suitcases are THE BEST for keeping the little ones entertained in the airport, and don't forget the wet wipes. There's really not much that wet wipes can't do!
Hack #6 - Leave some room in your suitcase
Yes, it can be tempting to vacuum pack your belongings and roll everything to within an inch of its life. But when you're travelling with kids, we recommend NOT creating jack-in-the-box bags. 
Leaving wiggle room can be hard to do, but it allows kids to rummage around in their cases without everything spilling out. This is especially important if you're on a camping or glamping family holiday. Dirt + clean clothes isn't ideal. 
Hack #7 - Zip-up laundry bags are your friends
Grab one or two of those blue, red and white striped zip-up bags, and pop them somewhere handy. They fold up super-small, and are great for using as laundry hampers or to transport bulky items. 
But take it from us: do yourself a favour and buy good quality ones! The last thing you need is for your dirty clothing bag to explode all over a lobby somewhere - awkward!
Hack #8 - Pack by category, not person
This one seems unnatural, but if your children are too young to manage their own belongings, it's a great idea to mix up how you'd usually pack. 
Keep all the jackets in one place, and everyone's pyjamas and pull-ups in another. Swimming gear (including towels and goggles) can have its own bag, and a combined family toiletries case means you never lose a toothbrush. 
Family Holiday Hacks - Technology
It's hard to imagine a time where you could go on a family holiday and not have to devote a bunch of brain space to 'technology'. But right now, we can't even enter a restaurant without scanning a QR code, and that's just the start of it. Like it or not, it's well worth putting thought into this aspect of your trip. 
Hack #9 - Pack a few power boards
Some accommodation will have limited power points, and it's a good idea to keep everyone's devices charging in one spot. That way you're less likely to leave chargers behind.  
Plus, if you're travelling overseas, this is also a great way to maximise the usefulness of your adaptors. 

Hack #10 - Chargers, headphones and more chargers
OK, so now you have the power boards, don't forget the chargers and headphones. Anyone who's been on a family holiday knows about charger wars. Sometimes you only have half an hour to recharge before you're off on the next family adventure. The last thing you need is one kid with a full battery and the other one wailing for a charger. 
We recommend  everyone who owns a device packs their own charger and headphones, and takes responsibility for them. Pop labels on each accessory so you can tell which is which.
A power-bank or mobile battery can also be a great idea when you need to charge on the go. It's not just about the peace and quiet either. If you're travelling with teenagers, being able to reach them on their phones can offer opportunities for all sorts of independence, especially on a family theme park holiday.
Hack #11 - Create a holiday email account
Obviously, if you're just headed on an all-inclusive holiday, you can ignore this hack. But if your trip requires any level of planning, consider opening a trip-specific email account. 
This takes less than a minute, and it can be a godsend when it comes to organisation. Once that email account is open, use it for all your bookings, receipts and relevant information. 
Make sure all the adults and teens in your family can access the account on their devices, and you'll never be stuck trying to find the details of your insurance policy or your accommodation lock-box instructions again. 
(Note: this hack works best for family holidays with young adults in tow. Those kids NEVER let their phones run out, so they just might be the ones to save the day.) 
Hack #12 - Scan all the important stuff
You'll never say, "Man, I wish I didn't have a digital copy of all our passports!" Trust us on this.
We recommend scanning all of the family's important documents and saving the digital files on your devices. There are lots of apps that can hold this information in a password protected fashion, so get searching. 
Hack #13 - Make media available offline
We consume so much media through streaming services because it's so convenient... right up until it's not. There's a good chance you won't always have good wi-fi on your trip, so make sure to download some of your kids' fave movies and playlists before you leave. 
Netflix, Spotify and most other platforms have options for this. It may take you a few minutes to figure out, but it will save your sanity in the long run. 
Hack #14 - Order your groceries online
Ordering groceries online is unbelievably simple at home, so why don't we do it on holiday? 
Check out the local offerings in your destination before you leave, and book yourself a 'click and collect' for when you're pulling into town. No dragging tired kids around the shops, no meal planning on-the-run and no bickering about who wants what type of cereal!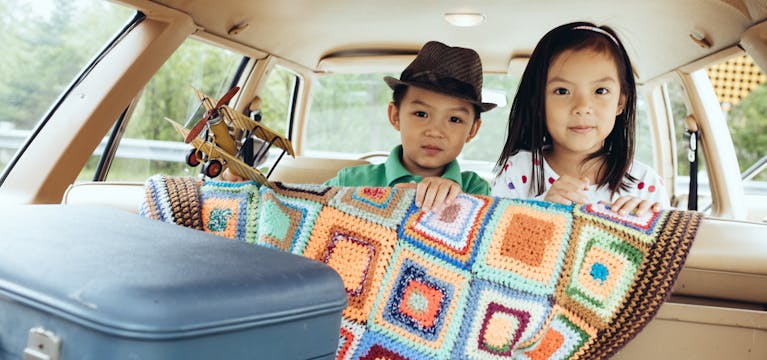 Family Holiday Hacks - Small Child Management
Yup, that's right. Little kids get their own category because, well… you know: life can be HECTIC when small children aren't happy! Adequate sleep, a bit of control and a 'special job' may just save your sanity. 
Hack #15 - Shut out the lights for nap time
Having ample light in a hotel room is fantastic until it's nap time. So if your bub doesn't like to snooze when it's bright outside, use the clippy hangers in the wardrobe to fasten the curtains together. 
If you're not sure whether there'll be any hangers where you're staying, pack some heavy-duty clothes pegs. And if you're really struggling, aluminium foil sticks to windows if you dampen it first. Don't worry – it peels off easily and leaves no marks. Sometimes you've got to do what you've got to do!
Hack #16 - Christmas tree decorations
Depending on your level of organisation, when you're planning your family holiday, you may want to think about what trinkets you'll let the kids pick out. Children naturally want to visit the gift shop everywhere they go, and why not? It's always so appealing! 
But, as an adult, you know where most of the junk will end up!
Consider chatting to your kids about starting a Christmas ornament collection from your travels. Put them in charge of finding things to hang on the tree when you're visiting a tourist spot. A surprising number of places sell tree decorations (or keyrings if you want to get creative). And if the kids are in charge of spotting new finds, it might just distract them from all the junky toys and expensive t-shirts. 
This hack is a win-win because the stuff they buy won't clutter up your house, and you'll all love pulling everything out every year to decorate your tree. You can even get the kids a mini-tree specifically for the holiday decorations. 
Hack #17 - Hire a pram
Even if your young kids are at that point where they only need a pram sometimes, you'll want access to one for big days at the zoo or Disneyland. However, it may not make sense to pack one from home if you'll only use it sporadically.
In this case, look at hiring options. Even if the kids don't want to sit in it much, it's an excellent option for nap-times on the go. Plus, it's useful to just generally cart around all the things. 
Hack #18 - Keep a stash of lollipops on you at all times
When it comes to toddlers, there's not much a lollipop can't fix. Use them:
for take-offs and landings to help with popping ears
as occasional bribes for good behaviour
when you just want the kids to pipe-down for a moment. 
Lollipops are cheap, highly versatile and they travel well (unlike toddlers!)
Family Holiday Hacks - Happiness
How exactly can you hack your happiness levels on your family holiday? It comes down to one word: mindset. 
Like we said earlier, the more you plan out before you leave on your holiday, the less you'll have to worry about once you're there. But again: even the best-laid plans sometimes go awry, especially if you're travelling with toddlers! Try these tips for parental inner-peace. 
Try to get into a flexible headspace. Remember to enjoy things for what they are, not what you want them to be.

Do some things for yourself in the week leading up to your holiday that will put you in the right mood. We recommend yoga and meditation, but whatever you choose, don't wait until you're there to start winding down!

Don't get too hung up on being present all the time. Your child is a human, not a performance! They need to be safe and supervised, but they don't need a star-struck audience 24/7. You're allowed to tune out and enjoy your holiday too.

There's a lot of research to suggest that quick decision-making can improve your happiness. People who make quick decisions tend to be more satisfied with the outcomes and generally happier. And there are so many decisions to make on a family holiday! So, try to make them quickly and avoid decision fatigue. 
Family Holiday Hacks - Holidaying with your pets
There aren't many options for family holidays with pets. But if you can't bear to leave your fur-friend at home, these two hacks are for you.
Hack #19 - Pack an old port-a-cot
If you have a four-legged friend who can't escape a port-a-cot, throw one in the boot on your next holiday. Sometimes, you need to keep pets in one place (like when you're loading and unloading the car), and it doesn't feel right to tie them up. 
Port-a-cots can also be an excellent overnight option if you aren't keen to crate your pup, but don't want them wandering. 
Hack #20 - Portion up their dry food before you leave
Lugging around a massive bag of pet food on your trip isn't ideal, especially if you're camping (hungry critters galore!) 
Take the time to pre-measure, package and label dinner for each day in its own bag. Clearly labelling the bags can also help with the inevitable 'have-you-fed-the-pet?' confusion when you're not following your usual routine. 
And if you're worried about the environmental impact, you can always reuse the bags when the food comes out the other end (if you know what we mean). 
Hack #21 - Visit your local pet store and check out the gadgets
Pet stores are full of devices that will make your trip easier – from jackets to stop your pet shedding all over your car to water bottles with built-in bowls. 
Whatever problem you're trying to solve, there's a product for it! Take some time to wander the aisles and see what's on offer. 
Enjoy your family trip!
So there you go. If you got to the end of this mammoth list of family-friendly holiday hacks, congratulations! We hope you enjoy every second with your squad, no matter what those seconds look like.

Just make sure you remember that holidays are for parents too, and have some fun yourself!