Heading off the beaten track and pitching a tent has never been more popular. 
Cramming the car with a year's worth of food, pets, kids and camping gear has suddenly become more appealing - to some.
Apart from the dreaded car trip, fresh-air, open landscapes and the freedom to move around does sound very inviting. But are you still craving the luxury of a 5 star holiday? 
What if you could have both? All the indulgent trimmings of a hotel stay, the fluffy pillows, the ensuite, while you holiday under the stars. 
Introducing glamping family holidays. For families who love the outdoors but don't want to sacrifice comfort for dirt floors.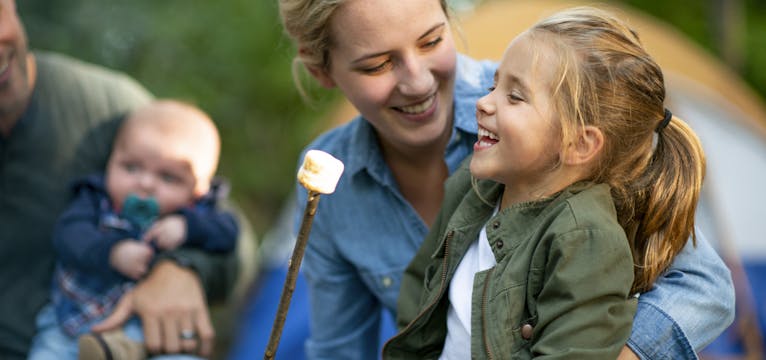 What is glamping?
As you've probably worked out by now "glamping" is a combination of the words, glamorous and camping. And that's exactly what it is. 
Forget bush toilets, mozzie infested tents and cold outdoor showers, we're talking mood lighting, Persian rugs, king beds and ensuites. 
Ok so now you're thinking you could get used to this upscale camping, you're wondering how to find these elusive camp sites? 
Keep reading as we reveal why families love glamping, Australia's best family glamping holidays, what to pack, what to eat, and how to budget so your family can kick back while somebody else pitches the tent.
Why families are choosing glamping holidays.
You get to experience a traditional camping holiday, but in comfort.
Often, glamping happens in destinations hotels will never have access to (picture remote beaches, national parks and beautiful mountain ranges).
It's generally more affordable than a 5 star holiday.
There are private bathroom facilities with hot running water.
Glamping is more eco-friendly than a hotel holiday.
Dress code equals active wear all day-every day.
You gain access to tents large enough to accommodate the whole family.
Smores are a daily dietary requirement.  
Did we mention hot, running water?
Australia's best family glamping holidays
1. Paperbark Camp, NSW
Just a little over 2 hours from Sydney, this eco and family friendly campsite sets seriously high standards. The tents are spacious and luxurious, from the uber comfy beds to the stand alone bathtubs you'll have to force yourself to leave and explore.
What you'll love: The white sandy beaches of nearby Jervis Bay, the kayaks, the flasks of hot water left by your tent each morning for coffee, the chef who whips up a surprise daily menu full of fresh produce and the matchy-matchy wines and cocktails!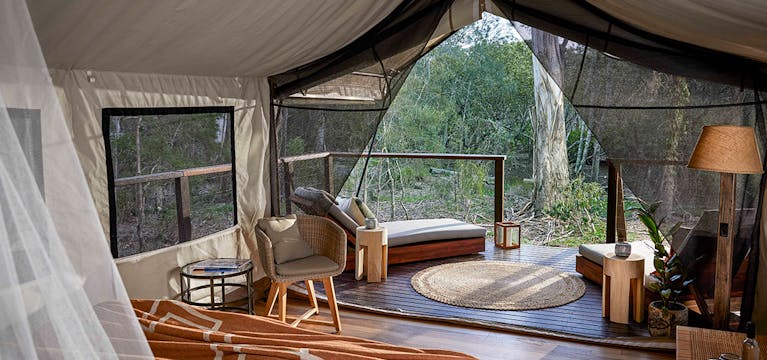 2. Ikara Safari Camp, Flinders Rangers, SA
If you've had a dream of a family outback holiday, this 5 star experience is the perfect introduction. 15 luxury tents set among some of the most stunning scenery in South Australia. Get a real taste of camping with a 4WD tour, then return to glamping in your safari tent.
What you'll love: Family size tents which sleep up to 4, pink sunsets from your private deck, king beds and the range of activities available.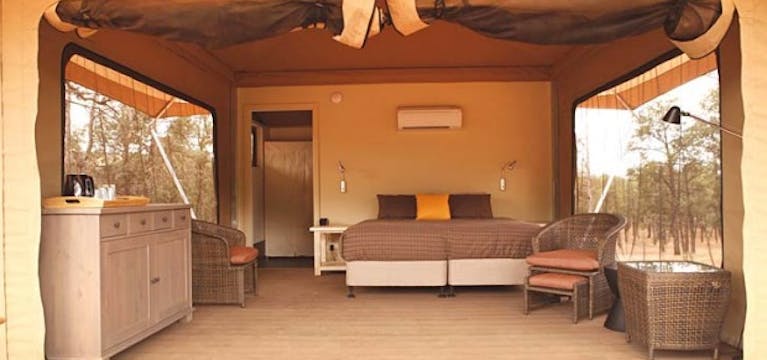 *While travel restrictions are constantly changing, it's hard to know what the next few months will look like. We recommend all Play customers follow the guidelines from the Australian Government and also read our guide - How to travel safely during coronavirus.
3. Glenworth Valley, NSW 
Once you've glamped at Glenworth Valley, you'll never want to camp anywhere else! Located on a secluded riverfront not far from Sydney, it's renowned not just for pretty tents but outdoor adventure activities. Abseiling, kayaking, quad biking and horse riding just to name a few. For families chasing adventure and a touch of luxury, it's the perfect holiday.
What we love: You only need to pack clothes, all camping equipment is provided, including essential fluffy pillows and persian rugs. Family tents sleep up to 5 people and are set up ready for your arrival!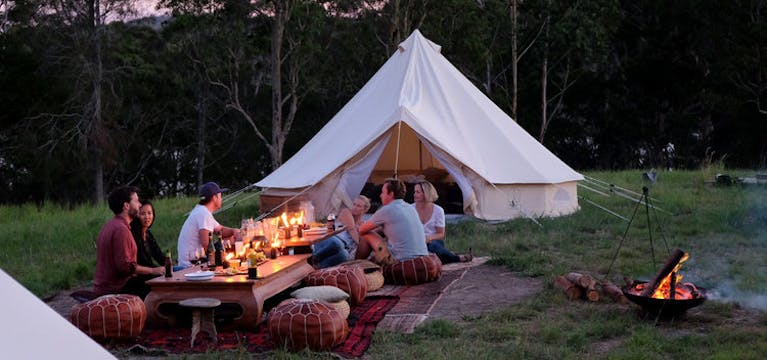 Now that you can see what all the fuss is about and you're hooked on the idea of a glamping family holiday, here's a simple guide to help you plan. Also, make sure to read our guide on how to plan a family holiday.
What to pack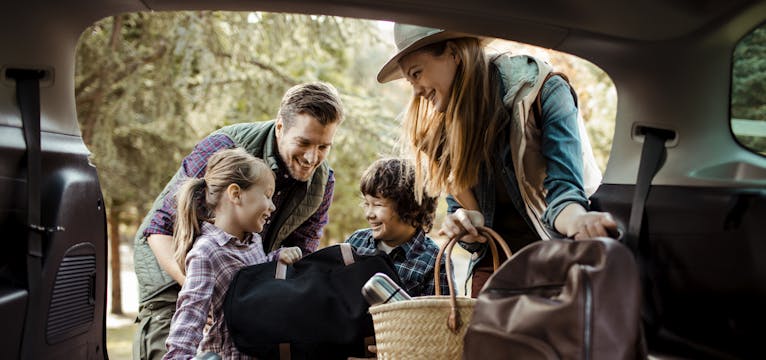 The best part about a glamping holiday is that you really don't need to overdo the packing. Glamping holidays are designed to remove the stress of traditional camping, so you won't need to go out and spend hundreds of dollars on new tents you'll have no hope of pitching. Most glamping sites also provide linen, towels, pillows and bedding as well as bathroom products. 
So just pack:
Clothes appropriate for the weather you'll be expecting.
Any food you will need, but more about that below. 
Your favourite bottle(s) of red for nights around the campfire.
All of the necessary ingredients for endless smores. Marshmallows, chocolate, repeat. Packing a bluetooth speaker is a great idea if you don't have guitar players in the family!
Extra torches (or headlamps for the kids) to account for the ones that will inevitably go missing! 
What to eat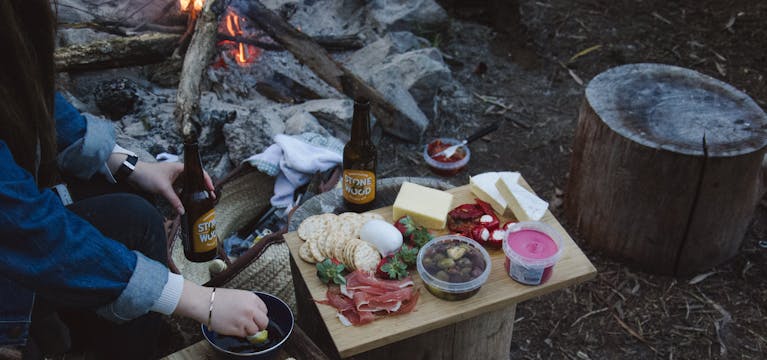 Most glamping sites will either have mini kitchenettes or bar fridges for storing snacks and those bottles of red. The beauty of glamping on or near a campsite is you'll often have access to communal facilities like a bistro, cafe or small store. 
If you do want to self-cater it's a good idea to check what kitchen facilities are available in your tent and if there's an onsite or private bbq you can use. 
How to budget
Obviously a 5 star glamping holiday is not going to be as cheap as a do-it-yourself rough and ready camping trip, especially if you already own a garage full of gear. But it's still going to be considerably cheaper than a luxury hotel getaway. 
Costs to consider
Fuel to and from your destination if you're driving
Snacks for on the road
Meals once you get to the campsite, what's included and what's not
Activity costs (don't forget to pre-plan and book them in so you don't miss out!) 

It's time to start planning! Why not book now and pay for your holiday in instalments? Securing a spot earlier rather than later is a great idea as many of these sites have limited tents and reduced numbers due to Covid. Don't leave it too late!

And, before you set off, make sure to check out our top glamping picks below and read our Family Holiday Hacks guide.